Serenity
Amber Ale
6.2% ABV – 9 IBU
Stop by our taphouse Friday May 6th 2022 for our Sweet 16 party! We are
celebrating our 16th re-release of our Serenity amber ale.
Food Truck – Average Joe's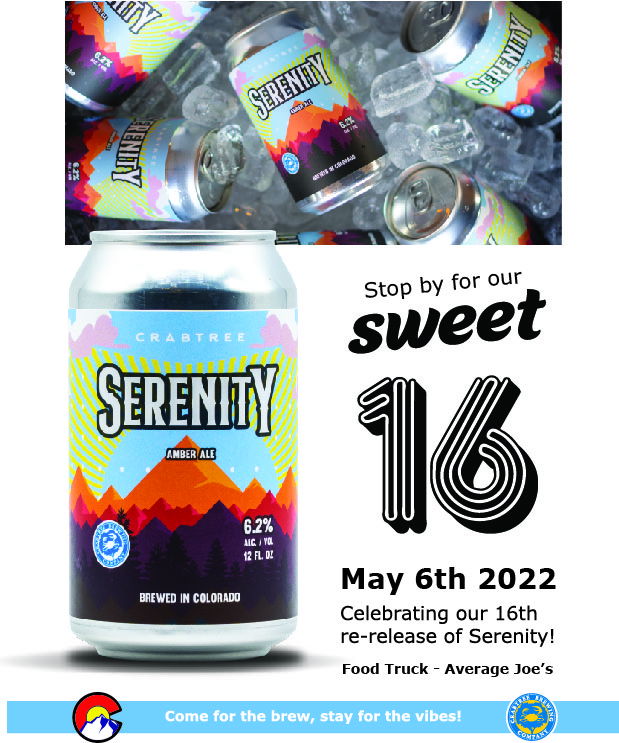 An American amber ale with a Colorado attitude; it's a bit darker than a normal amber ale, but more delicious.  A few small notes of caramel from the roasted crystal malts used, and a light taste of Cascade and Perle hops.  This beer serves up nicely in a traditional pint glass or right out of the beer can.
Serenity has been a staple beer at Crabtree Brewing since the beginning of our beer making fun, which started 16 years ago!  This beer's namesake is simple.. Jeff is an avid skier, and he finds Serenity on the back bowls.  The peace and quiet of snow falling and the hills resting.  Serenity has gone through a couple of different label changes, but most of them depict some sort of mountain background.  Seems to be a good Colorado beer theme, right? Jeff wanted to create a beer that recreates the Serenity that he finds skiing.  And because he can't ski all year long, he finds peace and quiet with a Serenity beer in hand.  This flagship beer can now be found in 12oz cans as well as on tap in our taphouse.